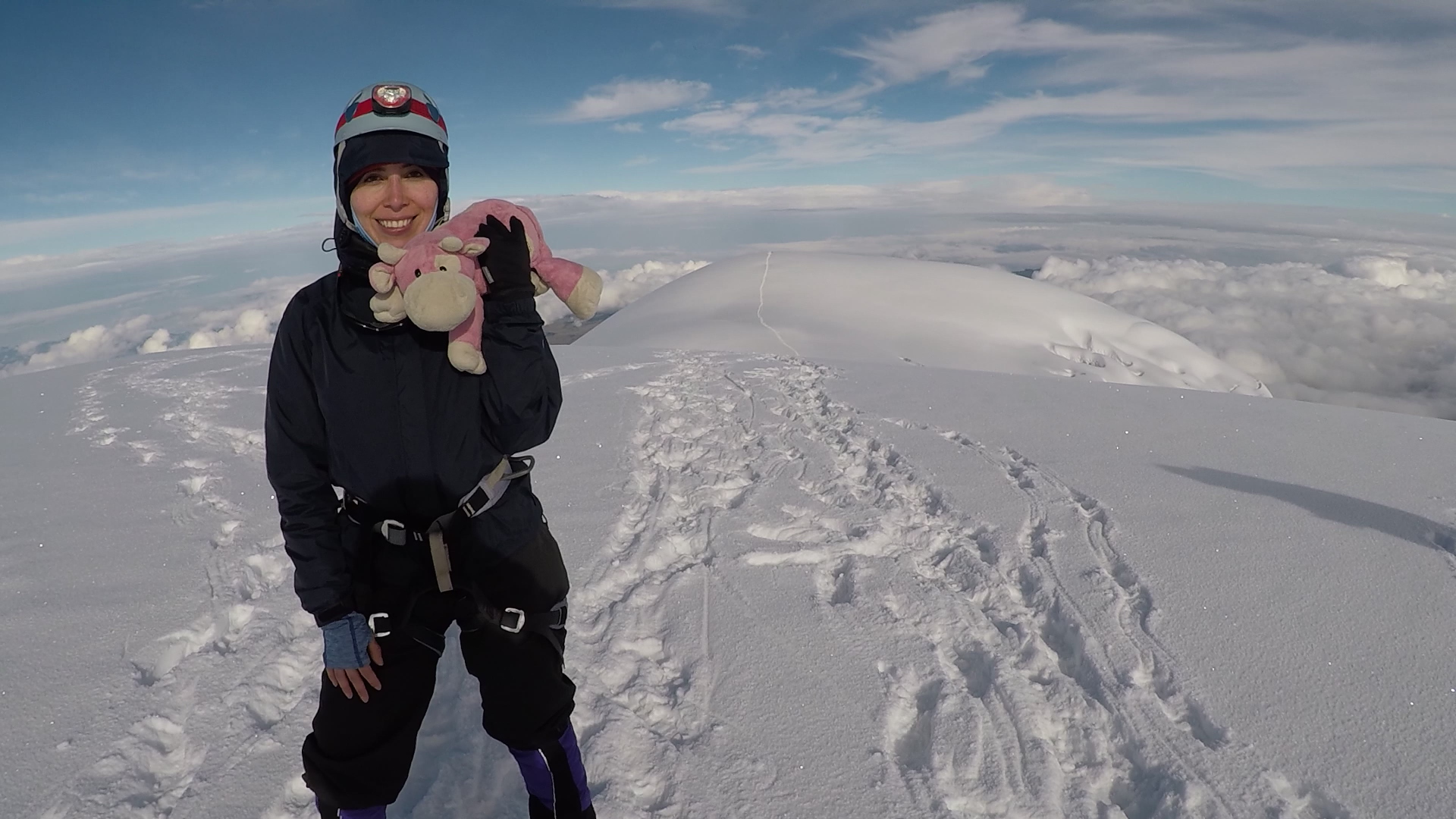 Meet-up at the parking lot on Shyris Avenue at 10 am. After some delays and technical stops, we were all set and ready to drive south. We stopped for lunch in Ambato city. Our lead guide assured us that he knew just the perfect place for a hearty lunch. He wasn't mistaken. We ate at Los Cuyes Restaurant, which specializes in roasted guinea pig and rabbit. As an aspiring vegan, I was not thrilled, but I must say that everyone's meal looked good. I had a big salad with broad beans and corn. I had learned from previous expeditions that I don't do well with heavy meals before a big climb. Back in the van, we all fell asleep driving the last stretch to the Chimborazo Reserve.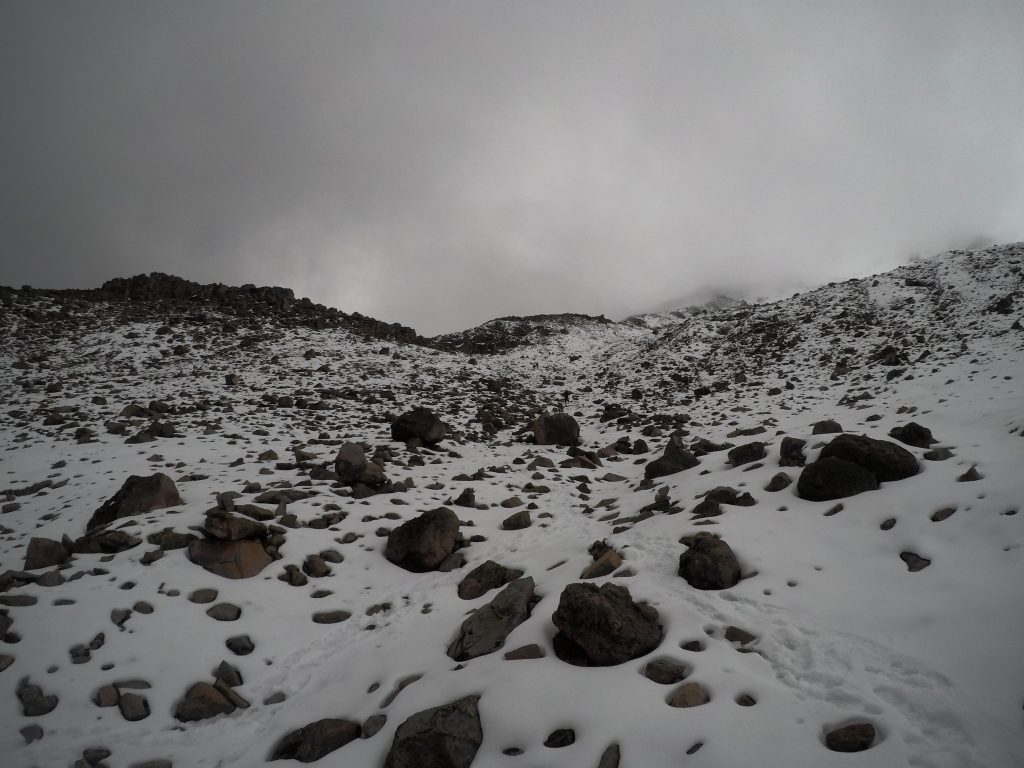 We arrived to the mountain refuge around 3 pm. One of our partners had traveled earlier from Guayaquil city. We were a nice, compact group of 5 climbers and 3 guides. We settled in our beds in the shared bedroom and got our stuff ready: crampon fitting and regular equipment check. There was a fair amount of day visitors in the reserve and the refuge was busy. I went to the bathroom when suddenly a woman stomps in with her hand covering her mouth in an attempt to hold the vomit, but it eventually bursts out flooding the sink and splashing over my pants. I had vomit on me. I couldn't even get angry at her, because she looked really bad. Altitude sickness got her. Calmly, I told her that there wasn't any toilet paper. She didn't reply, probably didn't hear me, and she just rinsed the vomit off her hands and face. I proceeded to do the same, using the piece of toilet paper I had in my pocket and pouring as much water as I could. I covered the area with tons of hand soap and rubbed my pants frantically, hoping the smell would not stick. Luckily, my pants were black, so the stain was almost invisible. I walked out of the bathroom as if nothing had happened. My climbing partner looked at me: "Poor woman, she was very sick. We got out of her way just in time". I simply nodded and walked to the dining area to get hot tea. 
Time flew. It was 5 pm and dinner would be served promptly. I only ate a bowl of quinua soup and some bread. Lunch was still being digested. We got to bed almost immediately and tried our best to fall asleep, which is hard to do when you know that you have to wake up in just a few hours. The anticipation of the long night and the hard climb were in my mind the whole time. I must have slept only an hour before the alarm went off. Getting dressed is a long procedure that requires patience. Having the right number of layers and the precise type of layers is essential. I was wearing 3 layers up and 2 layers down. The boots are my least favorite piece of equipment. My right foot apparently is too wide for all boots that I have rented, so it always feels tight. The plastic boots are big and heavy, so you feel like an astronaut when you walk, at least I do. Finally, after an hour of preparing ourselves and getting something basic to eat, we departed at 10:15 pm. 
Our guides had explained that we were taking the longer route for safety. Just some days before, a mountain guide had lost his life due to a rock fall below the area known as Los Castillos. We weren't going to risk it just to safe a couple of hours. We began the long walk on the rocky side of the mountain, which was covered with snow. It got gradually steeper, until we were walking on the edge of the mountain on a trail that barely fitted both my feet, and without being roped. I freaked out several times, overwhelmed with the fear of falling off the side and sliding all the way down, nowhere to be found. I would start to hyperventilate and lose balance, pulling my mind back to steady walking when my ice axe would sink too deep in the snow or my knees would tremble. Your mindset as you climb is so incredibly important. Finally, we got the point where we put on the crampons and roped with the guide. I felt relieved and privileged to have a guide all to myself. We set off at an easy pace, while I tried to focus only on my short, steady steps, avoiding looking up.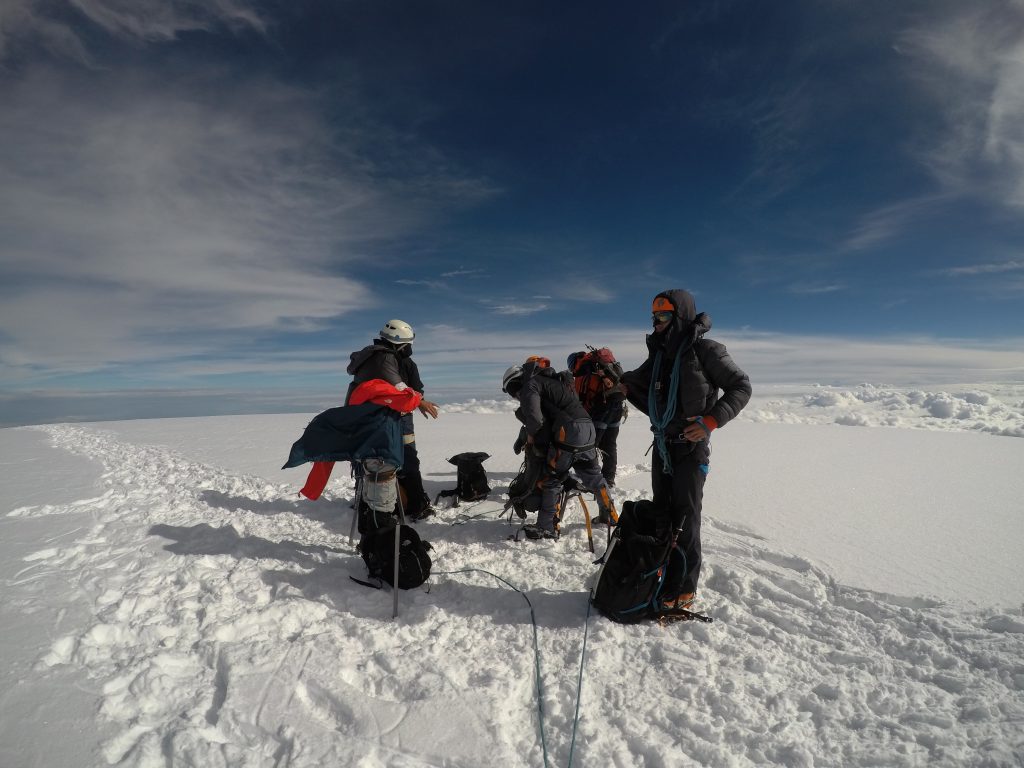 Climbing Chimborazo involves going up an endless, steep ramp. Flat rest stops are practically non-existent. Our guides would carve a seat in the snow so we could sit for a moment. We had lenient weather and a starry sky. Once again, my friend had lent me his super warm gloves that he used for Everest. My hands would even sweat at times. Warm hands, warm body. I never felt hungry, but I tried to eat some dried nuts and my vegan snack bar. I took turns sipping crisp water and hot tea. Overall, I was doing fine. Our guides had repetead that once you reach the 6000-meter mark, your body acts differently. Physically, I didn't feel a big difference, but mentally I told myself: "OMG, we've surpassed the 6000s, something is going to happen." Eventually, the only thing that happened was that I started to look up too often, thinking the ramp was never going to finish. Your mind gets tired and your body follows. I started to take breaks more often, exhaling more deeply. Sunrise seemed to take forever to arrive and once the sun was out, time sped up.
Finally, the summit was near, it really was near. They changed me to another roped team and I was first in line, the first one to step on Veintimilla summit. I had made it. We had all made it! My chest was filled with joy and the weather was absolutely perfect. We could see Whymper summit, our final goal, slightly shadowed by the clouds. It looked so close, but it took us another 30-40 minutes to get there. At last, we reached the highest summit at 8 am: Whymper 6,268 masl. Fire ran all through my body and I felt completely free and happy. I took my gloves off to maneuver the GoPro my friend had lent me and took out Elisa, my mom's stuffed pink cow, to celebrate. My brother bought Elisa for my mom when she was diagnosed with breast cancer in 2008. She lived well for the next 6 years, until cancer spread to her bones. She passed away in February 2016. Up on the closest point to the sun, I remembered her words: "what's up there?" Pure beauty, I answered. My hands kept warm the whole time as I was taking selfies with Elisa and filming our triumph. My eyes watered witnessing the spectacle of Chimborazo's highest point, honoring my mom.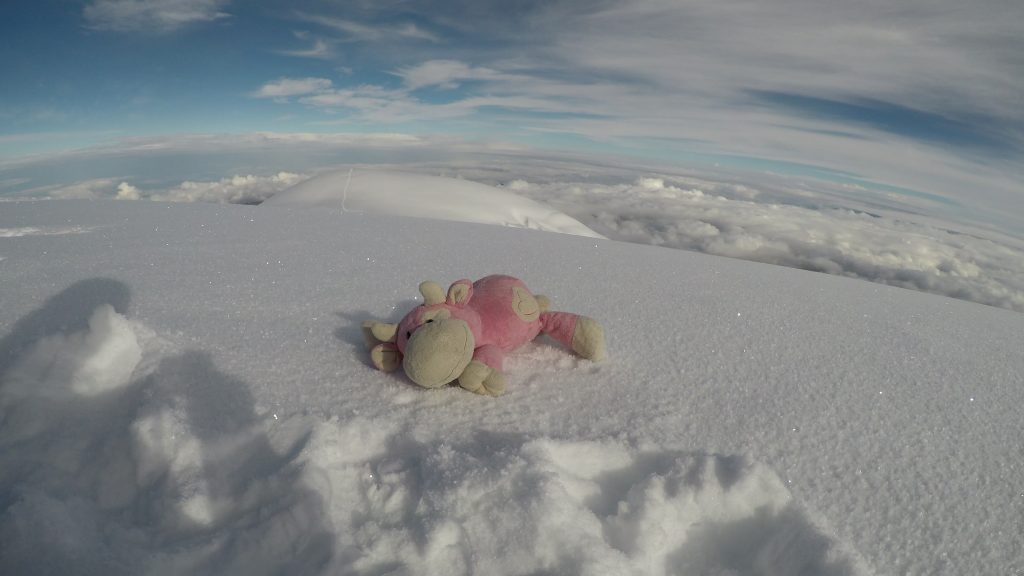 After roughly 20 minutes, it was time to descend. But before that, I had to face my greatest fear: peeing. Previous climbs had spared me this experience. Immersed in all the excitement, I actually didn't mind. It is not every day that you get to leave a mark on top of the highest mountain in the world (geodetically speaking, Chimborazo is taller than Everest, measured from the Earth's center). I walked away from the group, knowing they probably could see me, but trusting they would look away. Everything you do at that altitude is in slow-motion. I struggled to get off the harness and my pants (2 layers) to finally squat and relief myself. Fear overcome!
Going down was not as easy given the pronounced incline. At some point, I totally lost balance and control over my legs and tripped 3 or 4 times in a row. What's going on, I thought to myself. My guide and I got ahead of the group and reached a flatter area where we would wait for them. All of a sudden, this heat wave swallowed us whole. What's this?! How can it be so hot here? What's happening! It was almost unbearable. We had to drop our backpacks and immediately take some layers off. My guide explained that the sunrays, particularly ultraviolet, which fall straight at the equator, hit the snow and bounce back, exerting this apparently anomalous heat. Talk about getting boiled in the snow!
At last, after 14 hours, we arrived at the refuge. To our surprise, we learned that we only had walked 5.2 km. Really?! Only 5 km? They certainly felt like 20! We quickly packed our stuff and got on the road to Ambato. We stopped at another of our guide's top restaurants and celebrated with beer and a good meal. For sure, this is one of the best experiences I've had in my life. From the training, which took 3 months, to the friends I made, the emotions, the lessons on the mountain, and the absolute joy of having accomplished the goal on this second attempt. I tell you: Get out there and explore nature, get to know it, learn from it, love it, and protect it!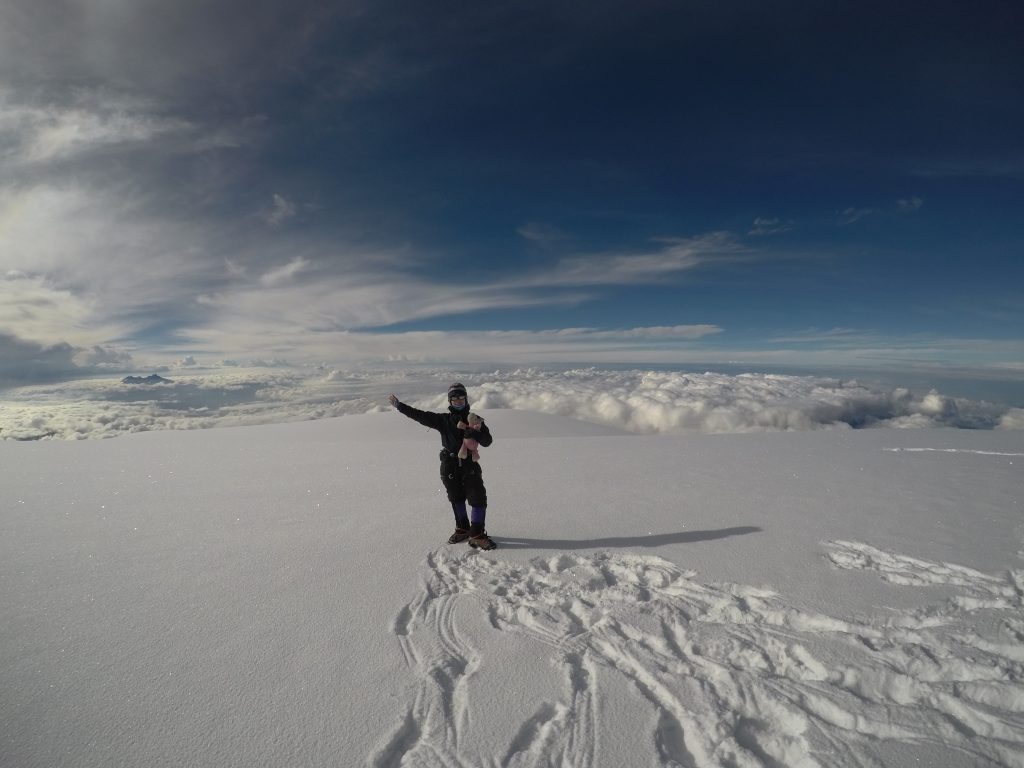 ---
Special thanks to my colleagues at Cumbre Tours for arranging this expedition, and a big shout-out to the guides Iván Herrera, Cristian Criollo and particularly my private guide José Salazar, who was beyond patient and enthusiastic.