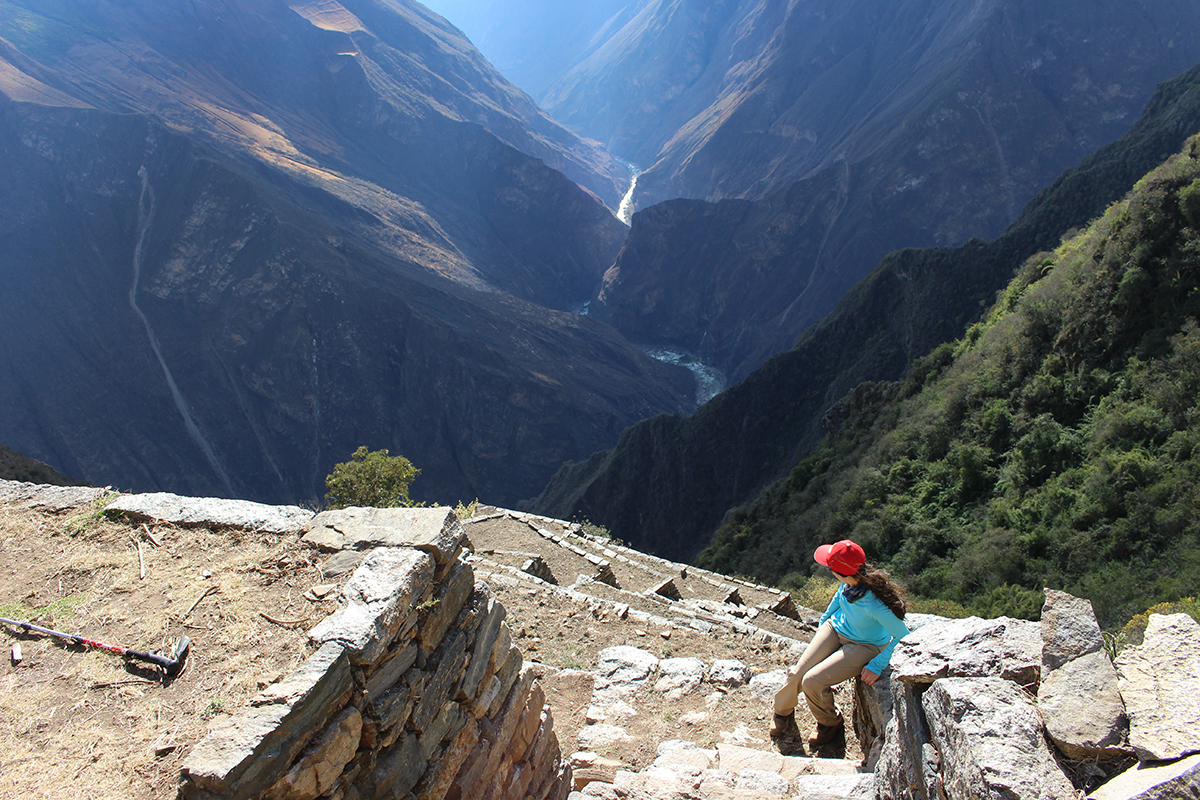 When you Google "Peru", Machu Picchu is probably the first result on the search. It certainly is one of the most impressive places I have ever seen. Well, that was before I found Choquequirao. Often referred to as Machu Picchu's "little sister", this place ranks high up on my travel list. After completing the Inca Trail and Salkantay Trek, Choquequirao was the obvious choice. The ambitious 4-day trek starts at about 3,0​30 meters above sea level in the Vilcabamba ​Valley (or Apurimac River Canyon), some 170 km from Cusco.
The first 13-km hike down seems easy enough when you start, until you realize that you are attempting a steep 1-km descent, going from 3,000 to 1,900 meters above sea level, carrying 10 kg on your back. Despite the fatigue, I didn't sleep well in my one-person tent. I was dreading the second day (15-km hike), knowing that I not only needed to get to the top, but that I also had to save enough energy to visit the archaeological complex that afternoon. Struggling with the climb, I agreed to take a mule for the second half, while feeling sorry for the poor animal, as it had to carry me up this almost vertical mountain. When I finally reached camp, I got off the mule, sat on the grass and cried. My knees were destroyed.
After a substantial meal and a far-too-short nap, we began to hike again. Once I got a first glimpse of the complex, my knees got weaker. What a sight! How could a city exist here? How did they build this? Were the Incas crazy? I totally thought so. My guide explained that the Incas always strived to be close to the Sun and thus chose high places to build their cities. There were several houses with perfectly shaped walls. Convinced that I couldn't be more wowed, I got to the terraces. "Yes, the Incas were definitely crazy", I told my guide. Dozens of terraces glide down the side of the mountain, defying gravity. Also, they feature beautiful stone decorations of llamas and serpents. Sunset closing in, we hurried back to camp while I tried to imprint this scenery in my mind.
The 2-day hike back to the starting point was highly demanding. However, I was left with the incredible satisfaction of having completed the mission. I felt even prouder when my guide told me that the village was pushing to get a cable car built so that more tourists could visit without the risk of death by exhaustion. So far, the project has not materialized and I hope it never does, because people should experience this place as the Incas did, on foot, forehead sweating, legs trembling and eyes watering.
NOTE: I visited Choquequirao in 2014 and until this day, the cable car has not been built.